Chiropractor Harrisburg NC
Welcome to Harrisburg Chiropractic located in Harrisburg. At Harrisburg Chiropractic we strive to give you an experience that focuses on a person's individual needs and wants. Whether your goal is the ability to pick up your children, sit at your desk, go for a walk or play a round of golf without pain, our clinic is the place for you. You may be interested in achieving optimal health and Harrisburg chiropractor Andrew Segarra wants you to utilize us as a resource in getting there.
I made the decision to become a Harrisburg chiropractor in 2001.  It was a fast growing community that did not have a chiropractor. Serving the community as an alternative healthcare practitioner has been my calling and has been beyond rewarding.
If you are in pain and want to avoid taking drugs or surgery we may be the place for you. There is never a charge for you to sit down and talk with me to find out if we can help. It's also a bonus that most insurance plans are accepted by our office and we offer flexible payment plans. There's no obligation. All you have to lose is the pain. Contact us today.
Harrisburg Chiropractic
IS CHIROPRACTIC RIGHT FOR YOU?
COMMON CONDITIONS WE TREAT
Our office is not only about adjusting your spine. I am certified in treating a wide range of conditions and focus on muscles and soft tissue that may need to be lengthened or strengthened. I am certified in soft tissue techniques called Trigenics and Instrument Assisted Soft Tissue Mobilization (Scraping). We are getting better and faster results since implementing both techniques. I have extensive training with the Advanced Functional Neurology Institute. All of these trainings have allowed me to treat conditions such as Peripheral Neuropathy, bone on bone degenerative knees and rotator cuff conditions/Frozen Shoulder, among others.
WHERE WE ARE LOCATED
We are located on Highway 49/University City Blvd at the county line next to NAPA Auto Parts.
The History of Chiropractic Care
The word "Chiropractic" is derived from the Greek words "cheir" (hand) and "praktos" (done) combined to mean "done by hand." It was chosen by the developer of chiropractic care, Daniel David Palmer. In 1895, D.D. Palmer performed a chiropractic adjustment on a partially deaf janitor, Harvey Lillard, who later reported that his hearing had improved due to the change.
D.D. Palmer opened the first chiropractic school two years later, and in the century since, chiropractic professionals have used spinal adjustments to help people prevent and cope with back pain, carpal tunnel, muscle strain, headaches and migraines, and a variety of other physical ailments. Millions of people benefit from the work of Dr. Palmer today.
MANUAL ADJUSTMENTS
Often people are scared to see a chiropractor. They are turned off by the "cracking, popping and twisting" involved with manual adjustments. We do offer manual adjusting and get great results utilizing that technique, but there are alternatives. We utilize computerized technology that pulsates or vibrates on the involved areas without the cracking and popping. ProAdjuster and Rapid Release consistent and comfortable.
HOW TO FIND A CHIROPRACTOR IN Harrisburg
This guide will help you find the best chiropractic clinic in Harrisburg for you. When most people in Harrisburg decide they need a chiropractor, they end up doing a search and just picking someone at the top.
Being at the top of Google for the chiropractic search does not necessarily mean they are the best chiropractor for you. Follow the steps below to make sure you are picking the right chiropractor for you.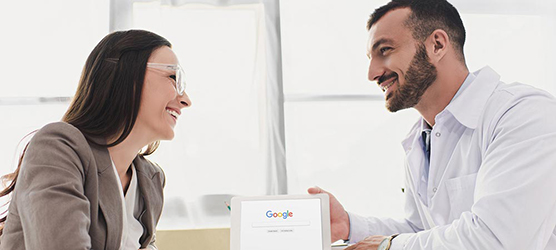 Time Needed: 5 minutes
Total Cost: USD 0.00
4 EASY STEPS TO FINDING A CHIROPRACTOR IN Harrisburg
Step 1: Open up a Google search
You will want to type one of the following in the search bar:
Chiropractor Harrisburg
Chiropractor 28075
Chiropractor near me
Best chiropractor in Harrisburg

Step 2: Review Their Website
The best chiropractors in Harrisburg put as much care into their website as they do into the rest of their office. By reviewing their website you will get a good feel for the doctor and if they are right for you.

Step 3: Check Out Their Reviews
Check out the Google Business Page of a chiropractic clinic you are thinking about visiting. It is easy for someone to say they are great, it's a different story to get other people to say great things about you.

Step 4: Give The Office A Call
Now that you have a basic understanding of what the office is about. Give them a call to make sure they fit the message that their website and GMB have been sending. You will know in a few minutes whether the office is the right one for you.

We accept Visa & Mastercard and offer flexible, no fees or interest payment plans.
SYMPTOMS CHIROPRACTIC CAN HELP
Contact us today to see how we can help you feel better today.
Frequently Asked Questions
About Chiropractors in Harrisburg
Chiropractors go through the same hours of training and content that a medical doctor does. They must take national and state licensing board exams to become licensed. Annually, they complete continuing education classes that approved by the state they practice in. 
Studies show that being treated by a chiropractor is safer than taking over the counter medications like aspirin, acetaminophen (Tylenol) or ibuprofen on a daily basis. Their malpractice insurance premiums are far less than what a medical doctor pays. Our office utilizes advanced treatment technologies that don't have to crack, pop or twist your body and still get great if not better results than utilizing traditional manual adjustments.
Occasionally, you may feel soreness after being treated. Other than that there are no side effects.
That varies with each patient's condition. The chiropractor typically recommends a rehabilitative treatment protocol that includes seeing the patient often in the beginning of care.
That can vary based on what the patient needs. The doctor will make that decision during your initial visit to our office. We are an in-network provider with most health insurance companies. We have flexible, no interest payment plans.
Dr. Segarra has been practicing since 1998 and has treated more than 15,000 patients. He specializes in treating more difficult cases. Patients spinal stenosis, disc bulges or herniations may benefit from his care. He also treats patients with peripheral neuropathy, arthritic knees or frozen shoulder.
Yes, Dr. Segarra is certified in chiropractic treatment technique for pregnancy called Webster.
No. For patients who are not comfortable with manual adjusting, we offer advance treatment technologies that utilize instruments that pulsate or vibrate. They can stretch or strengthen the injured muscles often on the first treatment.
No. Adjusting yourself is nonspecific. Your chiropractor will decide which areas of your body need to moved and which do not.